What you need to know
When life doesn't go according to plan, building your resilience can help you handle whatever comes your way. Explore ideas about how you can reset your mindset, and connect with resources when your need is more immediate.
Start with one action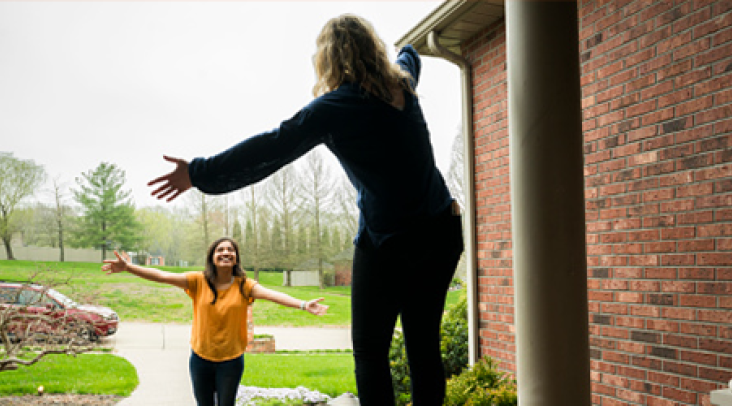 Make connections
These days, life is far from normal. Keeping six feet of physical distance doesn't have to mean isolating yourself from friends and family.
Smart small: Reach out to a friend or loved one. Put your phone and social media contacts to good use. Call or text someone you haven't connected with in a while. You may be surprised by how many people will be thrilled to hear from you.
Build up: Set up a virtual coffee date with a friend or colleague. Connect with your community by exploring virtual volunteer opportunities you can do from home or on a computer.
Reach out for help when you need it
Are you juggling work with kids learning from home? Caring for loved ones? Ask for support when you need it.
Start small: Reach out to family members, neighbors, education pods—consider options that are right for your family dynamic.
Build up: Find reliable, quality care or help at home. You have a benefit that can help.
Prioritize your sleep
Sleep does a body good. Give yourself time to prepare for sleep so your body and mind can refresh.
Start small: Wind down for the day by putting down your phone and picking up a book, or try relaxing with music. Give your mind and body time to transition to rest.
Build up: Consider downloading an app (like Calm or Headspace) that provides free meditations and tools. You're eligible for a discount on the Calm app through Beneplace. If you're enrolled in a Cigna medical plan, get personalized help from a sleep expert.
Practice mindfulness
Your mind is powerful. Mindfulness and focusing on the current moment can help relieve stress, lower blood pressure, improve sleep, and much more.
Start small: Set aside a couple of minutes to calm your mind. This simple practice can help you reset your thinking, reduce stress, and improve your productivity. Meditation and mindfulness apps, like Calm, can guide you through anxiety, stress, sleep, relaxation, and more.
Build up: Register for a wellness webcast, or watch one at your convenience on demand. As a bonus for Cigna national medical plan members, you can earn wellness incentives when you take this action.
Take time to refresh
Working around the clock? Take the time to step away from work, whether you measure that break in minutes, hours, or days.
Start small: Taking a short break can make a big difference. Sit outside, go for a quick walk, or take ten deep breaths.
Build up: Step away from your computer, and take your lunch break. Schedule that staycation, or take a mental health day.
Add movement to your day
It only takes five minutes to boost your mood, improve your physical health, and see long-term benefits to your body.
Start small: Lace up those shoes, and start moving! If you'd like to track your progress or reward yourself, consider buying yourself a tracker or new activewear. Pay less for these types of items (and others) through Beneplace.
Build up: Get a coach, and strengthen your chances of staying committed to your goals, like shedding those pounds or quitting smoking.
Money matters on your mind?
Changes in your income and investments can be scary and stressful. Take control of your money, and regain some peace of mind.
Start small: Knowledge is power. Review your statements, and know where you stand. Rethink your budget by using the resources from the Financial Education Center.
Build up: If you're experiencing financial difficulties due to the COVID-19 pandemic, you may confidentially apply to the BAE Systems Employee Relief Fund to request assistance.
Help anytime, anywhere

Feeling lost or alone? Are you worried about a colleague or a family member? Getting help is not a sign of weakness—it's often the strongest thing you can do. Support is available around the clock, no matter where you are.

The Employee Assistance Program (EAP) offers confidential, no-cost one-on-one counseling. Connect with an Employee Assistance Program professional at 1-800-591-9339.

For 24/7 crisis help: Call the National Suicide Prevention Lifeline at 1-800-273-8255.

Connect with the EAPNational Suicide Prevention Lifeline